CSI HIGHLIGHT OF THE YEAR award:
Valvar
CSI Awards celebrate highlights of the year, events such as first-in-mans, trials, studies and approvals, among others, within the field of congenital, structural and valvar heart disease interventions and interventional imaging.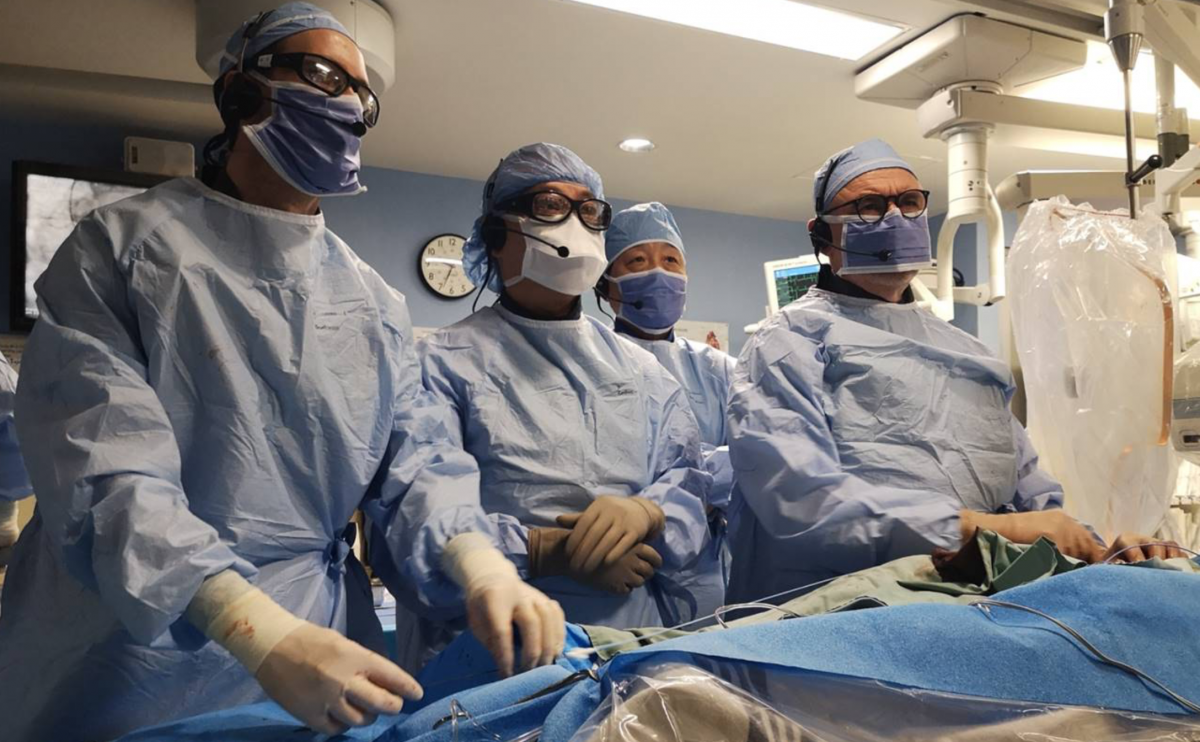 J-Valve Transfemoral System to Treat Aortic Regurgitation
jc medical | Valvar
Impact outline: There are no TAVR devices commercially available in Europe or the US that are approved to treat Aortic Regurgitation, because these patients generally have very little calcification that these devices rely on for fixation. The J-Valve Transfemoral System treats AR patients very well by securing fixation of the implant to the native aortic leaflets. This has been demonstrated in clinical trials and real-world use through the J-Valve Transapical device. A Transfemoral J-Valve has been used successfully in several clinical cases and a clinical trial has been initiated.
Background/supporting information: The native leaflets trapped between the valve frame and Anchor Rings creates a seal against PVL. Additionally, this attachment allows for a low radial force implant designed for a very low need for pacemaker and the Anchor Rings will self-align the implant to the native commissure alignment for optimal hemodynamics designed to prevent HALT and promote long-term durability. The low frame height and cut-outs in the frame allow for the treatment of coronary arteries as low as 1 mm and easy access to coronary arteries post-implant. Because of these features, the J-Valve has also been utilized for Valve-in Valve successfully where other TAVR devices would be at very high risk for coronary occlusion.
* * *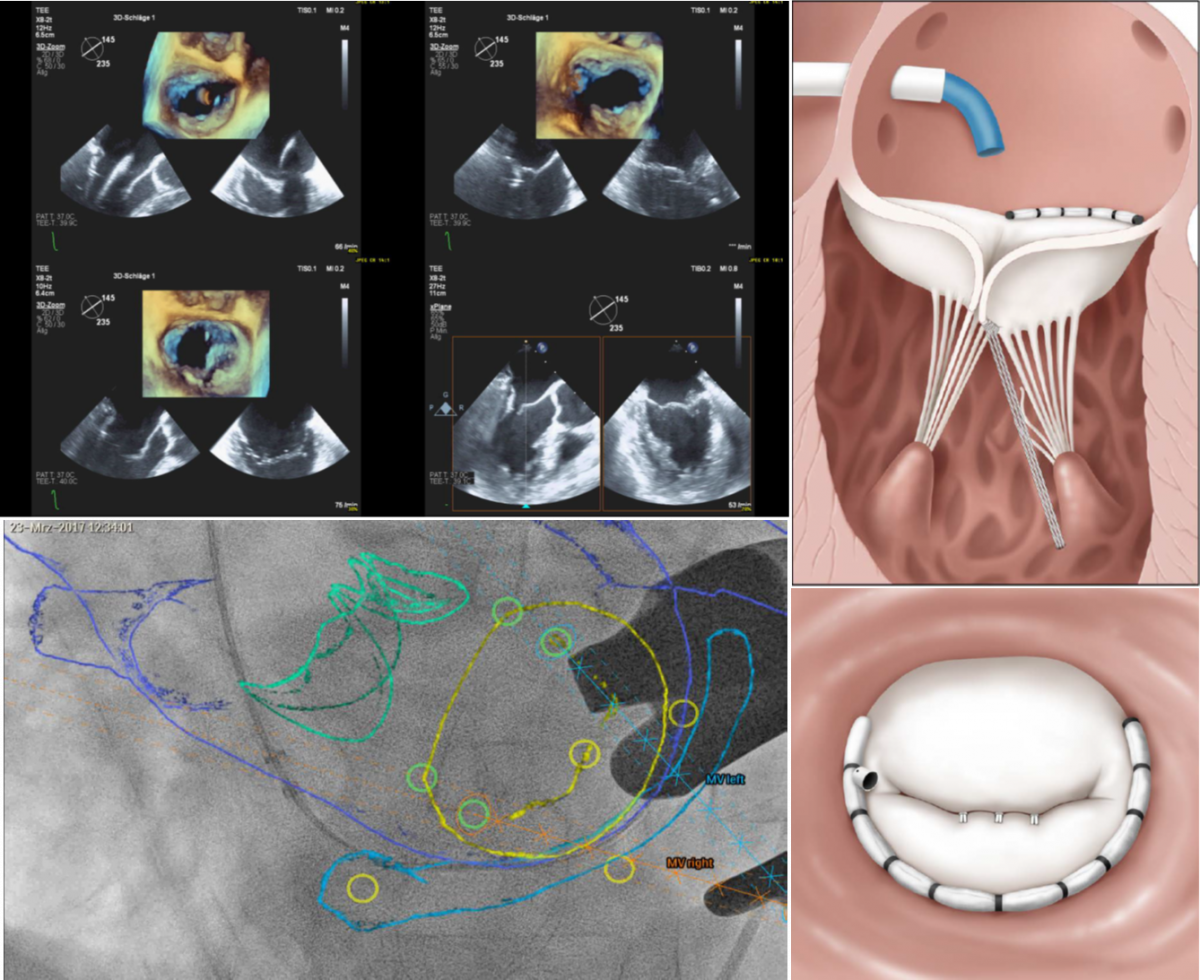 For successfully establishing the Mitral Toolbox as an effective and
reproducible approach for treating patients with mitral valve
regurgitation
Neochord | VALVAR
Impact outline: The use of complementary beating-heart and transcatheter technologies, known as the Mitral Toolbox, has been pioneered to successfully treat patients suffering from mitral valve regurgitation. Engaging the Heart Team to define the pathway of care for patients by embracing the use new technologies in combination and/ or staged interventions has created a new paradigm in the management and treatment of Mitral Valve Disease.
Background/supporting information: By combining catheter-based technologies that directly address the annulus, leaflets, and chordae tendinae of the mitral valve, these pioneers have successfully treated over 30 patients with advanced beating heart technologies and have shared their learnings with the cardiac surgery and cardiology communities of physicians across the globe.
* * *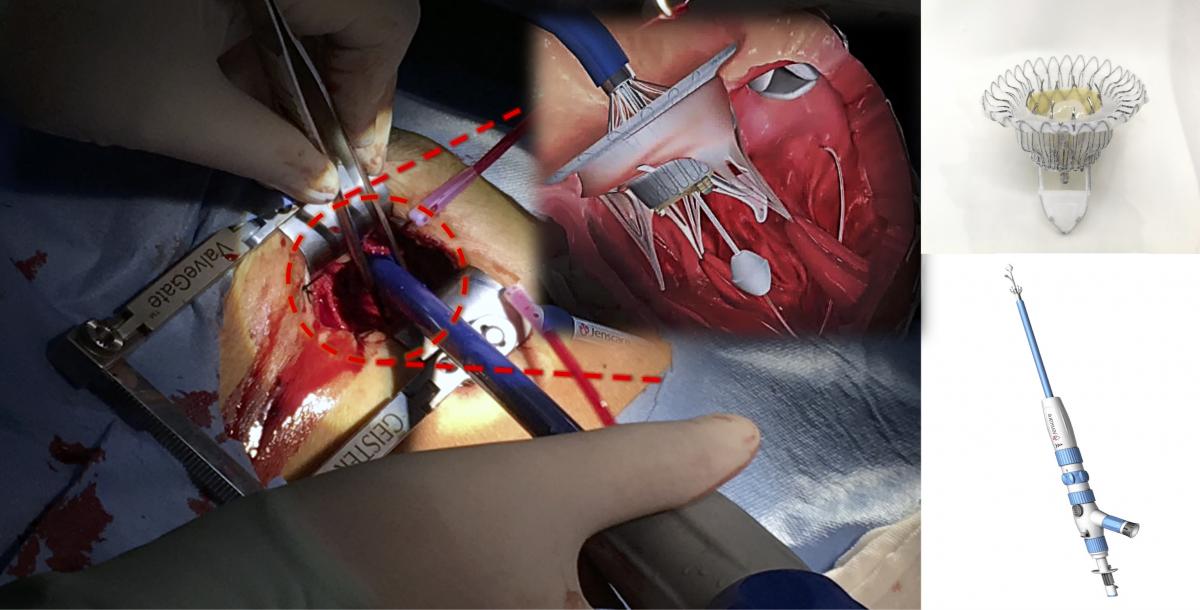 A beautiful ' Oriental Princess' can help Severe Tricuspid Regurgitation Patients- Very successful first-in-man implantation with a New Device of TTVR: LuX-Valve®
JENSCARE | VALVAR
Impact outline: LuX-Valve is new transcatheter tricuspid valve replacement (TTVR) device and had been implanted in 12 severe tricuspid regurgitation (TR) patients who are unsuitable for open heart surgery with exciting success.
Background/supporting information: LuX-Valve`s innovative designs: Valve disc can attach on the autologous valve to prevent perivalvular leakage. Non-radical force anchor system includes two graspers and an interventricular anchorage.
* * *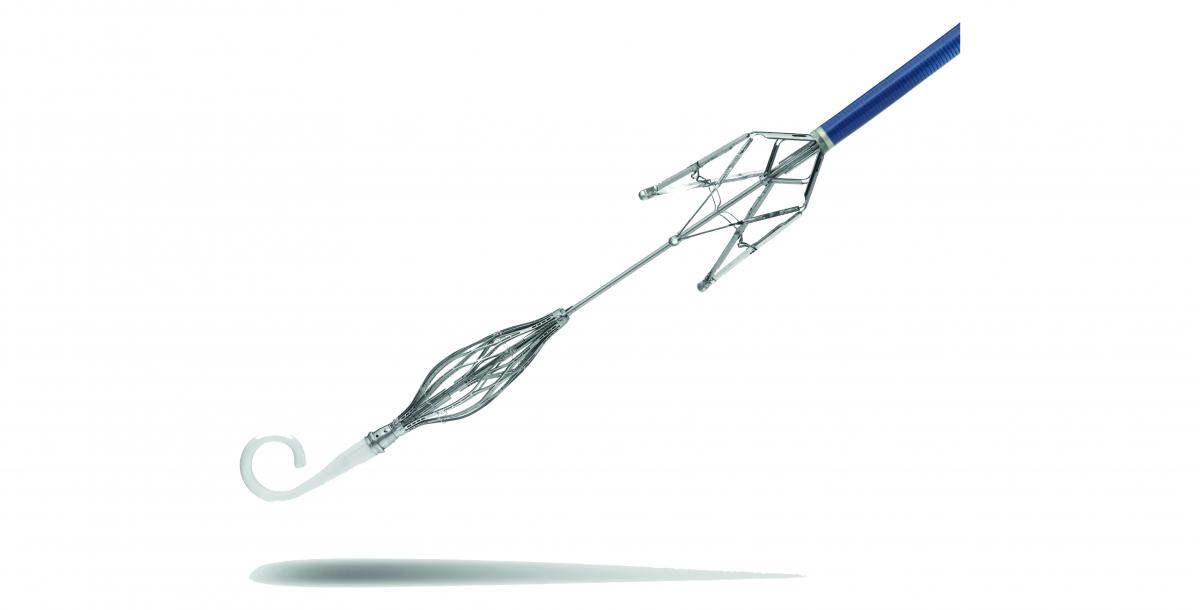 Successful First-In-Human Experience of Leaflex™ –
Innovative Non-Implant-Based Treatment for Aortic Stenosis
pi-cardia | VALVAR
Impact outline: The Leaflex™ is a transfemoral catheter designed to treat aortic stenosis where calcific deposits grow within the aortic valve leaflets restricting their movement. The Leaflex™ delivers predictable mechanical forces to both sides of the valve leaflets, creating multiple scoring lines that segment the calcific deposits, regaining leaflet mobility and improving valve hemodynamics to an extent never achieved before. The Leaflex™ First-in-Human study included 5 Intra-Operative and 15 TAVR patients, who were treated with the device immediately prior to valve implantation. The Leaflex™ treatment resulted in a significant increase in aortic valve area and a significant decrease in transvalvular pressure gradient. It is Pi-Cardia's vision that following rigorous clinical trials demonstrating long-term safety and efficacy, the Leaflex™ will potentially offer a simpler and lower-cost alternative for treating aortic stenosis and may offer a simpler and lower-cost alternative for treating aortic stenosis and will therefore expand the treatment options currently dominated by SAVR and implant-based TAVR.
Background/supporting information: The Leaflex™ device is intended to address the unmet need for an effective, durable, non-implant-based treatment for patients with calcific aortic stenosis (AS). It may be used for the following indications:
1. As a destination therapy in patients where TAVR is less suitable, such as elderly and frail patients and those with limited functional capacity or life expectancy;
2. As a bridge procedure in patients who are scheduled to undergo TAVR, SAVR or non-cardiac surgery;
3. For delaying valve implantation, and avoiding a later valve-in-valve procedure in younger patients;
4. For facilitating TAVR and improving its results in patients with heavy aortic root calcification or bicuspid aortic valve morphology (better stent frame expansion leading to longer durability, reduced paravalvular leak (PVL) and low PM rates).
The Leaflex™ offers valve repair technology rather than prosthesis implantation, avoiding potential short- and long-term valve implantation related complications, such as prosthetic valve endocarditis, PVL, and structural valve deterioration. In addition, the Leaflex™ procedure has the ability to be repeated at a later stage if TAVR remains undesirable, eliminating the need for bioprosthesis implantation. Finally, the relative cost-effectiveness of this procedure is an important advantage compared to TAVR in the current cost constrained environment.
* * *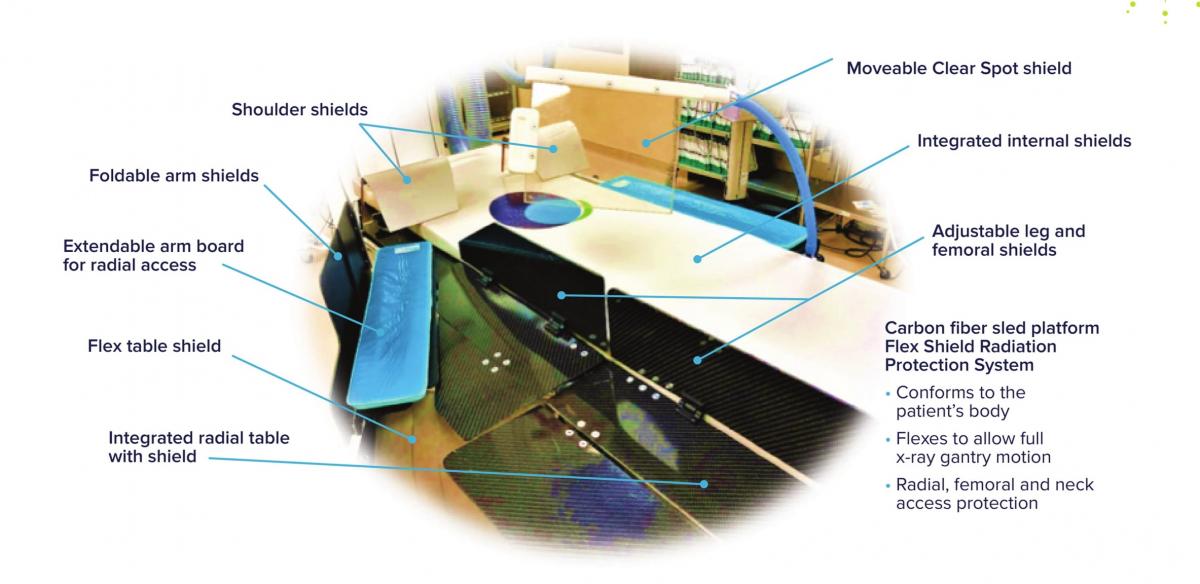 Scatter Radiation Protection For All
egg medical | VALVAR
Impact outline: Heart Team exposure to scatter radiation has been linked to higher risks of cancer, cataracts, neurodegenerative disease, and mortality. Scatter radiation is greatest below the table top and near the patient's head and shoulders. Egg Medical developed the EggNest to reduce the entire Heart Team radiation exposure by 90%. Through its integration of a strong carbon fiber base, internal shielding, an attached rail around the entire patient, and flexible shielding that swings with the x-ray, the EggNest provides radiation shielding around the entire table. A specialized TAVR shield mounted into the carbon fiber base offers shielding for the personnel at the head of the bed. Working as a integrated system, the EggNest protects the operator, the assistant, the nurse, and everyone in the room.
Background/supporting information: In detailed measurements of scatter radiation around the x-ray table (using a US DOE anthropomorphic phantom) we found that, without shielding, 69% of the scatter x-radiation dose received by personnel comes from below the tabletop. Positions near the head of the table results in the largest x-ray doses to personnel. The nurse who stands 1.5 meters from the table receives a higher radiation dose than the assistant next to the operator.
The EggNest system markedly reduced personnel radiation exposure around the x-ray table. Compared to standard shielding in the PA projection, the EggNest reduced personnel dose by an average of 91%. In the angulated projections, x-ray dose to personnel was reduced by 87-94% (compared to standard shielding). The dose to the nurse 1.5 M from the table was reduced by 94%. Total room scatter radiation (averaging all angiographic angles and positions around the table) was reduced by an average of 92%.
* * *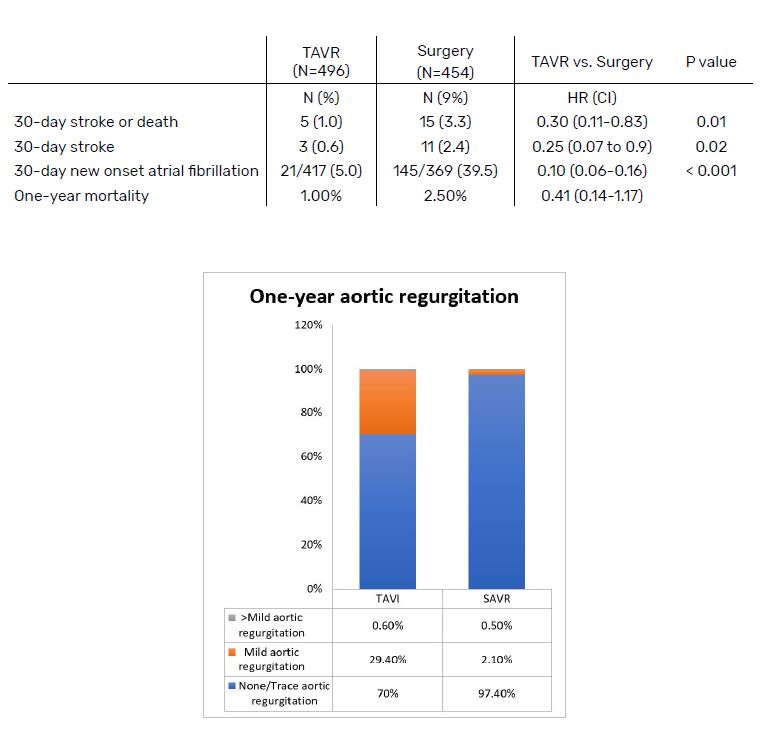 PARTNER 3 trial: At one-year follow-up, transcatheter aortic valve
implantation (TAVI) leads to a lower composite rate of stroke or death
compared with surgery in low-risk patients with severe aortic stenosis
Edwards lifesciences | VALVAR
Impact outline: Transcatheter aortic valve implantation (TAVI) with the Sapien 3 valve was compared with conventional surgery in patients with severe, symptomatic aortic stenosis considered to be at low risk for surgery based on the STS score (mean 1.9%).
The primay endpoint, one-year composite of death, stroke or rehospitalization was lower in patients who underwent TAVI compared with patients who were treated surgically (8.5% vs. 15.1%, 95% confidence interval [CI], −10.8 to −2.5; P<0.001 for noninferiority; hazard ratio, 0.54; 95% CI, 0.37 to 0.79; P=0.001 for superiority).
Similar to previous trials demonstrating the benefit of TAVI compared with surgery in patients at high or intermediate risk, aforementioned data supports TAVI as an at least equivalent, and maybe superior, choice for low risk patients with severe symptomatic aortic stenosis. Moreover, it shows lower rates of rehospitalization and atrial fibrillation and similar hemodynamic results and pacemaker implantation rates after TAVI compared with surgery.
Background/supporting information: Apart from the previously mentioned benefit regarding one-year combined death and stroke, the following important data regarding postoperative morbidity, quality of life and valve performance are important:
The 30-day combined rate of death or stroke was lower after TAVI compared with surgical valve replacement (1.0% vs. 3.3%, p=0.01)
The 30-day stroke rate was lower after TAVI compared with surgical valve replacement (0.6% vs. 2.4%, p=0.02)
The one-year death or disabling stroke rate was lower after TAVI compared with surgical valve replacement (1.0% vs. 2.9%, HR 0.34 95% CI 0.12-0.97)
The rate of 30-day post-procedural/postoperative atrial fibrillation was seven times higher in patients after surgical valve replacement compared to TAVI (5% vs. 40%, p<0.001)
The re-hospitalization rate was lower in the TAVI group compared to the surgical group (one-year: 7.3% vs. 11.0%, 95% CI, 0.42-1.00)
The length of index hospitalization was lower after TAVI compared with surgical valve replacement (median 3.0 days vs. 7.0 days, p<0.001)
Patients achieved a better functional capacity faster after TAVI compared with surgical valve replacement (less patients at 30 days in NYHA functional class II, III or IV, higher increase in 6-minute walking distance at 30 days after TAVI)
The effective orifice areas were similar comparing TAVI to surgical valve replacement (at one year 1.7 cm2 after TAVI vs. 1.8 cm2 after surgical valve replacement)
There was no difference in the percentage of patients with greater than mild paravalvar regurgitation between TAVI and surgical valve replacement (0.6% vs. 0.5%)
* * *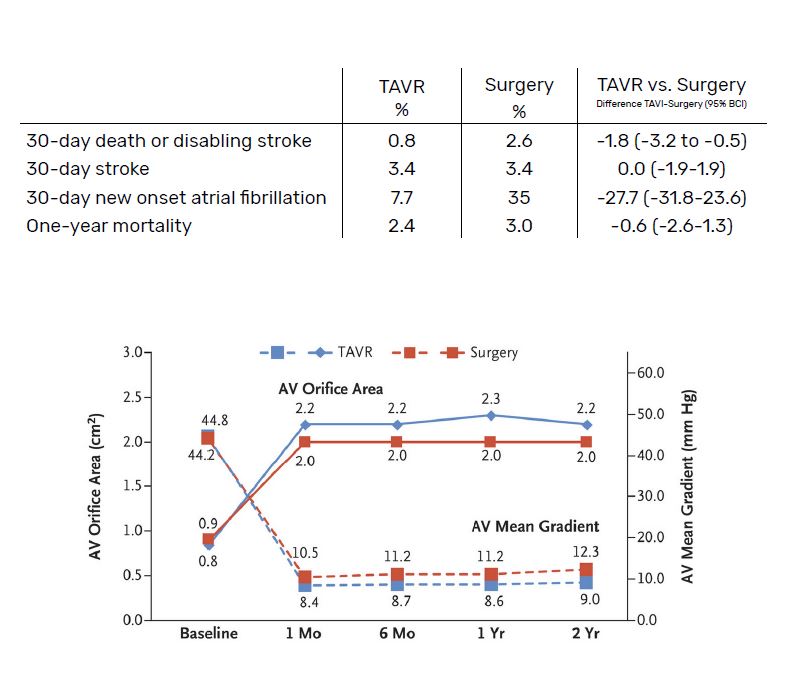 Evolut Low Risk Trial: 2-year Bayesian Results Demonstrates Self-
Expanding, Supra-Annular TAVI outcomes leads the way for TAVI as an
alternative for low risk patients
medtronic | VALVAR
Impact outline: The landmark Evolut Low Risk Randomized Controlled Trial compared minimally invasive Evolut™ transcatheter aortic valve replacement (TAVI) to the gold standard of open-heart surgical valve replacement in younger and healthier patients with symptomatic severe aortic stenosis.
The trial met its primary endpoint, demonstrating non-inferiority of all-cause mortality or disabling stroke at two years compared to surgery (5.3% vs. 6.7%; posterior probability of non-inferiority >0.999). The 30-day safety outcomes for bleeding, MVC, and AKI favored TAVI vs SAVR.
The trial represents new clinical evidence showing the benefits of transcatheter aortic valve replacement in terms of survival, stroke and rehospitalization for heart failure in patients with low surgical risk. It demonstrated the excellent hemodynamic (blood flow) performance of TAVI with significantly lower mean aortic valve gradients (8.6 mm Hg versus 11.2 mm Hg) and larger EOAs (effective orifice area) than surgery (2.3 vs. 2.0) at 12 months.
The groundbreaking Evolut Low Risk Trial is positive for patients and heart teams alike and adds to the growing body of clinical evidence that will help expand the indication of a less invasive treatment to a significantly wider range of patients suffering from aortic valve stenosis.
Background/supporting information: It is estimated that 165,000 low risk patients suffer from severe aortic stenosis per year in the U.S., Western Europe and Japan. If left untreated, it can cause heart failure in as little as two years. Currently, symptomatic low risk patients with stenotic aortic valves are required to undergo open heart surgery. TAVI is a less invasive alternative to open heart surgery. TAVI is not currently indicated for low risk patients. The Evolut Low Risk trial will be a key element in the assessment of indication expansion to this patient category.
Low Risk Trial
Like many other randomized TAVI trials conducted to date, the Evolut Low Risk Trial used a non-inferiority analysis to compare TAVI to surgery. The intent of the trial's primary endpoints was to show non-inferiority to SAVR in low risk patients.
The Evolut TAVI system had lower mean aortic valve gradients (8.6 mm Hg vs. 11.2 mm Hg) and larger EOAs (effective orifice area) (2.3 for TAVI vs. 2.0 for SAVR) at 12 months. Along with meeting the primary endpoint, the results also achieved EOA and mean gradient (hemodynamic) superiority for TAVI at 12 months and KCCQ (return to quality of life) scores from baseline superiority for TAVI at 30 days.
Rates of the prespecified 30 day safety composite of all-cause mortality, disabling stroke, life-threatening bleeding, major vascular complications or acute kidney injury were significantly lower for TAVI as compared to SAVR (5.3 percent for TAVI versus 10.7 percent for SAVR), as were the rates of the composite primary endpoint of all-cause mortality or disabling stroke at 30 days (0.8 percent for TAVI versus 2.6 percent for SAVR), although the pacemaker rate was greater in the TAVI treatment arm.
* * *