CSI AMERICA 2023
PLAN YOUR STAY
One place for all relevant information regarding your visit to Orlando in November, from accommodation to public transportation.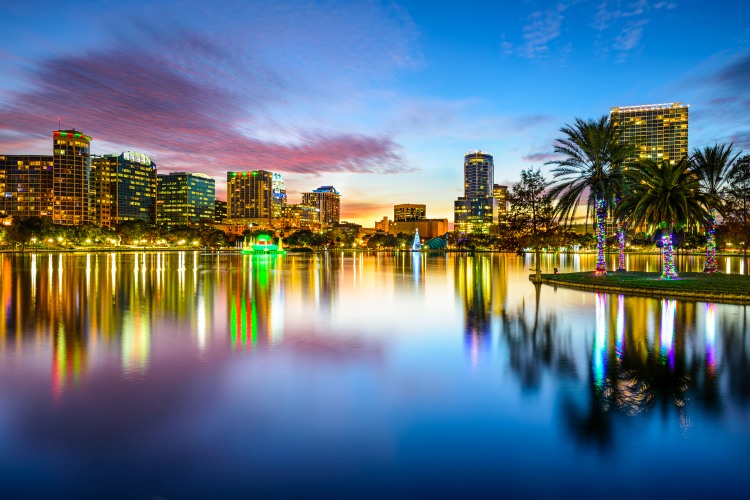 In Florida the sun is shining most of the time, and in Orlando, the most visited tourist destination in the USA, many activities allow visitors to enjoy the sunny days: varied culinary offerings, huge shopping outlets, diverse outdoor activities, and a unique history.
Famous theme parks such as Walt Disney World and Universal Studios are must to visit! If you are a nature lover, you will also find many lakes in the area, where you can enjoy kayaking and paddling.
The culture and history of Orlando is also rich, especially in downtown Orlando where various communities come together and participate to the city's cultural heritage and vibrant life.
Conference venue

The three-day conference of CSI America 2023 takes place at the AdventHealth Nicholson Center.

AdventHealth Nicholson Center
404 Celebration Place
Celebration, Florida 34747
USA

Click here to download the map to the Center.

Accommodation

CSI has rooms reserved at the MELIÁ Orlando Celebration Hotel at a group discounted rate. Please note: the room rates do not include breakfast, but you can enjoy breakfast at the congress venue starting at 7 am throughout the event.

​Early booking is highly recommended as rooms are typically sold out quickly. The set room rates depend on availability and are on a first-come, first-served basis. The cut off date for the rates is October 24, 2023

Please follow our link to get our special rate. If you try to book directly from the hotel page, our special discounted rate will not be available.

Please note:

Alternitavely, you can also contact the hotel at reservations.melia.orlando@melia.com or via phone at 407-964-7000. Please remember to mention the group code: CSI2023.

If you experience issues with making reservations through the provided link. To book your room, please contact Evelyn at carmen.evelyn.pena@melia.com stating the dates you wish to make the reservation for and the group code: CSI2023.

CSI airline travel options

Special Lufthansa Group airlines fares
The Lufthansa Group airlines network of Austrian Airlines, Lufthansa, SWISS, Brussels Airlines and Eurowings offer optimal connection and combination options, so you will benefit from quick and direct flights to the CSI America congress.

Book your flights via this link:
www.lufthansa.com/de/en/meetings-and-events-delegates and use the event code DEAUXSO.
The reduced fares are automatically displayed.


Should you wish to tailor an individual travel itinerary you are welcome to make use of an alternative Travel Agency, our partner travel agency "ADAC TMS" are happy to assist with your flight queries and bookings for CSI events.
The ADAC TMS Service team can be contacted by phone on +49 40 3250700 from Monday to Friday from 8am to 7pm (CEST) and on Saturdays from 10am to 2pm (CEST).
Alternatively you can send a booking request email to service@reisebuero-papendick.de.

NB: Please enable pop-ups permanently in your browser while booking, otherwise the window in the booking platform will not open.

Transportation

Orlando International Airport is 15.4 miles from the AdventHealth Nicholson Center and easily accessible by car. If you wish to reach the venue by using public transportation, it will take you around an hour.

To get there by bus: take the bus 51 direction "N Garland Ave and W Amelia St" and stop at "E Livingstone St and N Magnolia Ave". From there, take the bus 102 direction "Fernwood Blvd and Oxford Rd" and stop at "N Orange Ave and E Yale St". Walk for 2 minutes, the center will be on your right.

RESTAURANTS

Not sure where to go for dinner? We have collected some local restaurant suggestions below situated around the venue.

Restaurant El Borrego: Mexican restaurant

A nice restaurant with Mexican specialties in the old town of Orlando.

Restaurant El Borrego

5770 W Irlo Bronson Memorial Hwy, Kissimmee, FL 34746

Phone: +14075076011

Online reservation: https://www.yelp.com/reservations/el-borrego-kissimmee

Website: www.elborregofl.com

Restaurant Celebration Town Tavern: a local restaurant

A family-owned seafood and steak house, known as the town's social hub. The tavern has a comfortable atmosphere and offers seafood, sandwiches, and specialties from the Boston area.

Restaurant Celebration Town Tavern

721 Front Street, Celebration, FL 34747

Phone: +14075662526

Website: https://www.thecelebrationtowntavern.com/

Restaurant: Columbia Restaurant

Florida's oldest restaurant, with a large choice of tapas and Spanish specialties.

Restaurant Columbia Restaurant

649 Front St., Celebration, FL 34747

Phone: +14075661505

E-mail: colcele@crg1905.com

Website: https://www.columbiarestaurant.com/celebration

Restaurant The Downtown Diner

A 1950's retro diner, to enjoy breakfast, lunch and dinner. The restaurants has vegan and vegetarian options.

Restaurant The Downtown Diner

701 Front Street, Celebration, FL 34747

Phone: +14075668696

Email: Downtowndinercelebration@gmail.com

Website: http://downtowndinercelebration.com/

A restaurant with Japanese and Korean specialties very close to the lake Rianhard.

Restaurant Ari Sushi

671 Front St, Celebration, FL 34747

Phone: +14075661889

Email: arisushicelebration@gmail.com

Website: https://www.arisushicelebration.com/

ATTRACTIONS

Celebration Lakeside Park

A nice, quiet park around the Reinhard Lake.

Address: 631 Sycamore St, Celebration, FL 34747

Orlando's golf facilities for those who like golfing during sunny days.

Address: 701 Golf Park Drive, Celebration, FL 34747

Phone: +14075664653

Email: proshop@celebrationgolf.com

Website: https://www.celebrationgolf.com/

ESPN Wide World of Sports

Do you like sports? You can enjoy a baseball or basketball sporting events at the ESPN Wide World of Sports in Celebration.

Address: 700 S Victory Way, Orlando, FL 34747

Phone: +14079395277

Website: https://www.espnwwos.com/

Disney's Hollywood Studios

Address: 351 S Studio Dr, Lake Buena Vista, FL 32830

Phone: +14079395277

Website: https://disneyworld.disney.go.com/
For more information, please contact: