CSI FOCUS D-HF 2022
Registration
Purchase your conference ticket for the entire two-day program through our registration portal by clicking on the button below.
We are also able to provide discount if you wish to register as a group.
Please note that some ticket types are subject to specific terms and conditions. All prices are inclusive of VAT.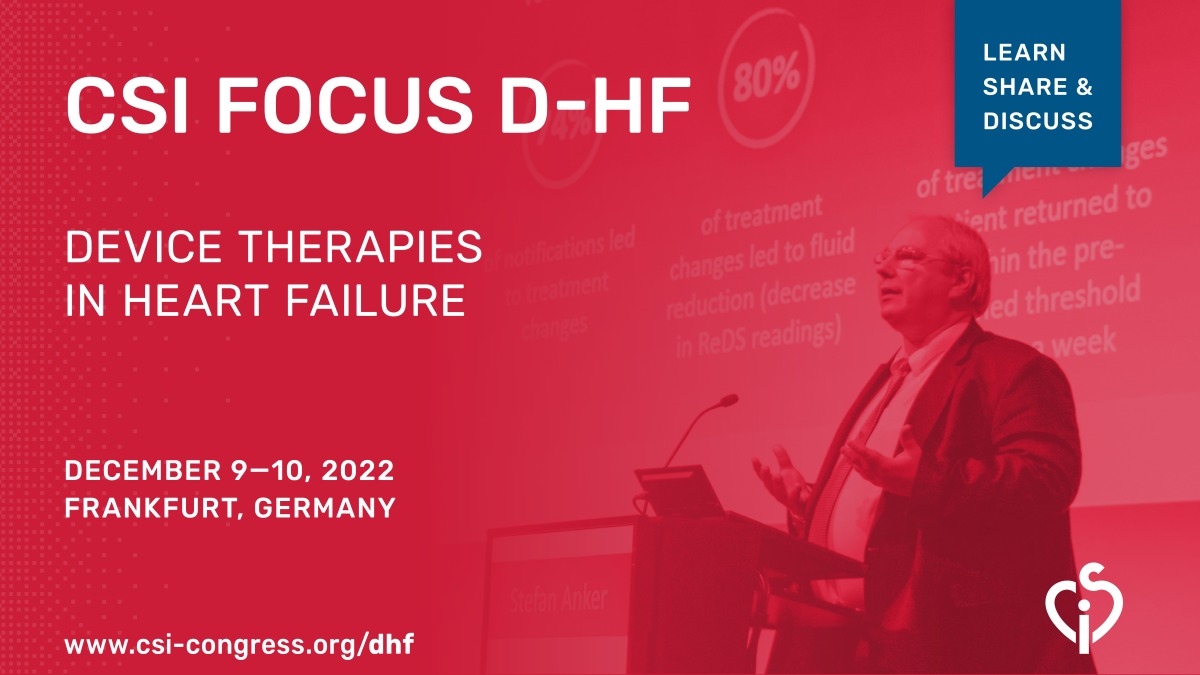 | | |
| --- | --- |
| ticket type | price |
| | Regular fee (includes 2 day access to the conference, breakfast and lunch) |
| Physician | € 450 |
| Industry (Sponsor) | € 850 |
| Industry (Non-sponsor) | € 1250 |
| Nurse, Fellow, Technician* | € 190 |
| Abstract and case presenter** | € 250 |
* Proof of institution required
** Subject to acceptance of case/abstract

Registration deadline

Online registration is possible until December 8, 2022.

On-site registration is possible at an additional fee.

Group discount

Save up to 20% and register as a group! Register as a group with friends or colleagues and we will be able to offer you a discount!

The following reductions will be available for teams:

3 - 5 Persons: 10% reduction on the registration fee, per person
6 - 8 Persons: 15% reduction on the registration fee, per person
Starting from 9 persons: 20% reduction on the registration fee, per person

The discount will not be automatically applied during the registration. Therefore in order to benefit from the group tickets, please contact us.

Cancellation policy

Cancellation and Refund Policy
If circumstances change and you are no longer able to attend the conference, you may cancel your registration by providing written notice to the congress organization team via email or fax. Our refund policy is outlined below:

- 75% refund of registration fees for cancellations received no less than 90 calendar days prior to the conference start date
- 50% refund of registration fees for cancellations received no less than 30 calendar days prior to the conference start date
- Cancellations received less than 30 calendar days prior to the conference start date or no-shows will not be refunded

Please remember that canceling your registration does not automatically cancel your hotel reservation. Attendees are responsible for canceling their own hotel (additional hotel reservation cancellation fees may apply).

Substitution Policy
We would welcome substitute attendees in your place at no additional charge. Please submit your substitution request with the name, title, institution, and contact email for both the registrant and replacement via email no less than 48 hours prior to the conference start date.

VISAS / Invitation letters

In our registration system we provide the option to request for an invitation letter, after payment has been made. Please ensure that all required fields are filled out correctly.

Kindly note, it should be understood that the letter of invitation is meant to help members obtain a visa and is not a commitment on the part of the organizers to provide any financial support. The decision to grant a visa belongs solely to the embassy/consulate. Please note, should your application be denied, cme4u/CSI cannot change the decision of the government agency.

COVID-19 GUIDELINES & REGULATIONS

We really look forward to meeting everybody in person again! The health, safety and well-being of all participants remain our top priority. That's why we will take every measure to ensure that the applicable local and state Covid-19 guidelines are in place.

Tips to attend in-person events:

- Have proof of full vaccination or recovery at hand when entering the venue.

- Please wear a mask at all times inside the venue. Exceptions to this rule will be communicated on a case by case basis.

- Keep physical distancing whenever possible and good hygiene habits.

- Book flexible flights and check the accommodation policy of your hotel in the unlikely case an event couldn't take place. If this happens, we would refund you the full registration fee.

- Register for the conference well in advance. Should the number of participants on-site be limited because of the development of the pandemic, registrations will be handled on a 'first-come-first-served' basis.

Specific measures for CSI Focus D-HF:

Following the German guidelines and protocols to prevent the spread of the Covid-19, the in-person attendance will require one of the following:

- Proof of full vaccination or recovery

Note there is a Corona test center next to the venue of the conference.

Participants will be requested to wear a mouth-nose protection inside the venue whenever distance between people isn't maintained. Each person will receive a hygiene kit upon his arrival and a red coat contact person on the subject of hygiene will be available on the venue. Disinfectant dispensers will be easily accessible in front of the conference rooms and common areas. You can find more information about Frankfurt Marriott Hotel measures against Covid-19 here.

More information:

- Information for travellers - SARS-Cov-2 pandemic
- Information on entry restrictions, testing and quarantine regulations in Germany
- Visa regulations
For more information, please contact