CSI Frankfurt 2022
plan your stay
One place for all relevant information regarding your visit to Frankfurt in June, from accommodation to public transportation.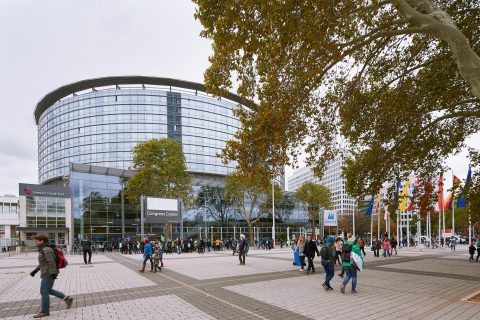 Glinting with glass, steel and concrete skyscrapers, Frankfurt-on-the-Main (pronounced 'mine') is unlike any other German city. The focal point of a conurbation of 5.5 million inhabitants, 'Mainhattan' is a high-powered finance and business hub, home to one of the world's largest stock exchanges and the gleaming headquarters of the European Central Bank, and famously hosts some of the world's most important trade fairs, attracting thousands of business travelers.

Yet at its heart, Frankfurt is an unexpectedly traditional and charming city, with half-timbered buildings huddled in its quaint medieval Altstadt (old town), cosy apple-wine taverns serving hearty regional food, village-like neighbourhoods filled with outdoor cafes, boutiques and street art, and beautiful parks, gardens and riverside paths. The city's cache of museums is second in Germany only to Berlin's, and its nightlife and entertainment scenes are bolstered by a spirited student population.
Conference venue

The four-day conference of CSI Frankfurt 2022 takes place at the Congress Center Frankfurt.

Congress Center Frankfurt
Address: Ludwig-Erhard-Anlage 1
60327 Frankfurt am Main
Germany

Accommodation

CSI has rooms reserved in Frankfurt Marriott Hotel at discounted rates. Please keep in mind that June is a busy month, which means accommodation tends to decrease as CSI approaches. Participants are strongly advised to ensure their room reservation in advance, as the set room rates depend on availability and on a first-come, first-served basis.

Early booking is highly recommended as rooms typically sell fast.
Participants can book their hotel room directly at the Frankfurt Marriott Hotel at a rate of 224 EUR per night.

Frankfurt Marriott Hotel is located across the road from the Congress Center Frankfurt, making it a convenient choice for conference accommodation. A 5-minute walk from the Festhalle/Messe U-Bahn station.

Frankfurt Marriott Hotel
Address: Hamburger Allee 2
60486 Frankfurt am Main
Germany

Transportation

Frankfurt Central Station is only a few hundred metres away from the Congress Center Frankfurt and Frankfurt Marriott Hotel, and the underground station there provides fast direct access.

With the underground line 4: board a train heading in the direction of Bockenheimer Warte, get off at 'Festhalle/Messe' and follow the signs to the Congress Center.
With tram lines 16 and 17: board a tram heading in the direction of Ginnheim/Rebstockbad, get off at 'Ludwig-Erhard-Anlage' (fourth stop).
On foot: ten minutes from Düsseldorfer Strasse via Platz der Republik and Friedrich-Ebert-Anlage. The pyramidal top of the Messeturm tower will help you to find your bearings. Simply follow Friedrich-Ebert-Anlage until you reach the 'Festhalle/Messe' underground station. Continuing straight on, you will reach the Congress Center directly. It is located in the same building complex as the Maritim Hotel Frankfurt.

Restaurants

Not sure where to go for dinner? We have collected some local and authentic restaurant suggestions below, raging from traditional German cuisine to more experimental fusion restaurants.

Laube - Liebe – Hoffnung​

Authentic seasonal cuisine, meat or fish, as well as vegetarian and vegan dishes.
Distance from Congress Center: 1,7 km (20 min by walking, 10 min by taxi)

Laube Liebe Hoffnung
Pariser Strasse 11, 60486 Frankfurt am Main
Phone: +49 (0)69 75847722
Email: willkommen(at)laubeliebehoffnung.de
Website: https://www.laubeliebehoffnung.de/

Traditional atmosphere of Frankfurt's apple wine culture.
Distance from Congress Center: 4km (12-15 min by taxi)

Apfelwein Wagner
Schweizer Straße 71, 60594 Frankfurt am Main
Phone: +49 (0)69 612565
E-Mail: info(at)apfelwein-wagner.com
Website: http://www.apfelwein-wagner.com/

Sophisticated German gastronomy, an exquisite selection of wines.
Distance from Congress Center: 2,5 km (10 min by taxi)

Druckwasserwerk
Rotfeder-Ring 16, 60327 Frankfurt am Main
Phone: +49 (0)69 256287700
Email: info(at)druckwasserwerk.de
https://restaurant-druckwasserwerk.de/

Assorted antipasti and salads, as well as a weekly menu with delicious pasta dishes.
Distance from Congress Center: 2,1 km (8-10 min by taxi)

L'Osteria
Speicherstraße 1, 60327 Frankfurt am Main
Reservations: https://losteria.net/en/reservation/
Website: https://losteria.net/de/restaurants/restaurant/frankfurt-am-main/

Mediterranean dishes, daily fish, meat & pasta specials and a comprehensive wine selection.
Distance from Congress Center: 2,1 km (8-10 min by taxi)

CRON am Hafen Restaurant & Vinothek
Speicherstraße 39-45, 60327 Frankfurt am Main
Phone: +49 (0)69 24009933
Email: kontakt(at)cron-am-hafen.de
Website: http://www.cron-am-hafen.de/

Fine Asian dining.
Distance from Congress Center: 1,9 km (8-10 min by taxi)

Zenzakan
Taunusanlage 15, 60325 Frankfurt am Main
Phone: +49 (0)69 97086908
Reservations: https://www.mook-group.de/form/form_en.php
Website: https://www.mook-group.de/zenzakan/index.php

Daheim im Lorsbacher Thal

Regional, traditional German, Hesse and Frankfurt cuisine, "Hausmannskost"
Distance from Congress Center: 4,1 km (15 min by taxi)

Daheim im Lorsbacher Thal
Grosse Rittergasse 49-51, 60594 Frankfurt am Main
Phone: +49 (0)69 616459
Email: info(at)lorsbacher-thal.de
Website: https://www.lorsbacher-thal.de/Daheim.html

Saisonal, inter-regional, vegetarian with a nice view on the Frankfurt skyline.
Distance from Congress Center: 6,2 km (20 min by taxi)

Oosten – Realwirtschaft
Mayfarthstraße 4, 60314 Frankfurt am Main
Tel.: +49 (0)69 9494256814
Mobil: +49 (0)152-24483178
Email: be(at)oosten-frankfurt.com
Website: https://freigut-frankfurt.com/

Paparazzi - Italian Restaurant

Italian cuisine.
Distance from the venue: 1.1 km (5 min by taxi, 10 min by walking)

Paparazzi – Italian Resuarant
Mendelssohnstraße 44, 60325 Frankfurt am Main
Phone: 069 742585
Email: ristorante(at)paparazzi-ffm.de
Website: https://paparazzi-ffm.de/index.php/ristorante-paparazzi-2-frankfurt-westend
Any questions? Please contact: